WHAT WE ARE
Xandomel Albariño was born in 2020 as the partnership between art and wine, and with the firm intention of making Albariño known beyond our borders. A wine made for your enjoyment, which seeks to unite art with viticulture, and to represent in its essence part of the Galician character that defines us.
THE WINE
Once bottled we let our albariño rest in a dark room for at least 6 months before it's served to the public.
Our grapes are grown sustainably and hand picked every year the grapes are destemmed and crushed, with prior cold maceration to obtain much more aromatic musts.

Subsequently, they are pressed to obtain the "mosto", which is then transferred to a stainless steel tank where it is cleaned, leaving the "mosto" clean and ready for fermentation. Once fermentation is finished, it is transferred to a new clean tank where the wine is clarified and stabilized prior to its final bottling.
Our vines grow in an old, decomposed granite soil near the sea, where our Albariño thrives thanks to the Atlantic ocean and the climate which is characterized by its frequent rainfall and mild temperatures, this climate ensures that the vine obtains the necessary level of humidity to help us create our excepcional product.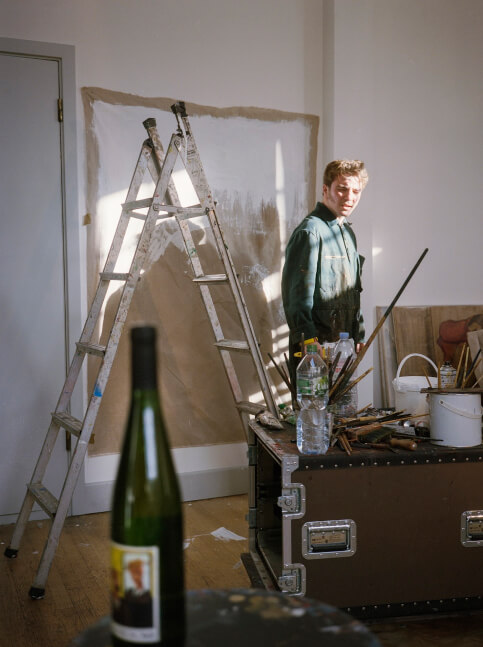 THE LOOK
Young emerging artist Rhed first burst onto the art scene with his first solo exhibition at Tanya Baxter Contemporary in 2018, where he was hailed by some as the new Basquiat. He joined us to create exclusively for this project/venture a one of a kind label representing the life journey of a young Galician émigré in search of a better future. It is composed of two men facing each other as a representation of the evolution of a human life and the experience gained on the journey while looking back in time at all the struggles, mistakes and great memories acquired on that journey.

Highlighting that What is important is not the final destination, but the memories and experiences collected while walking your chosen path and
MANIFESTO
We're not the first nor the last
But we´re the bottle-shaped joy in between
The pleasure of the process
The perseverance when life is tough
The spirit to dream And to make those dreams real.
For as in art, our feelings take form.
We clink and drink
We do not have an agenda
We´re simply wine.
You'RE not SIGNED UP?
We will keep you updated with our special editions and upcoming events.